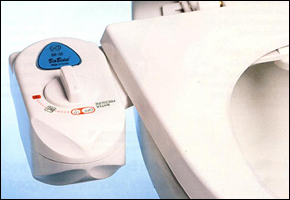 The Bio Bidet Simplet BB-50 is unlike its more expensive and complicated brothers – it doesn't require electricity or a battery! Read more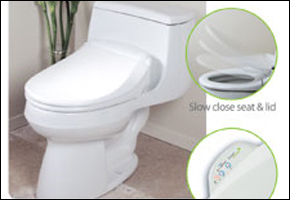 The Brondell Swash 250 is a great way to conserve on toilet paper.  According to Brondell, using a Swash 250 bidet saves 75% on toilet paper and is a great way to cut costs and help save the planet at the same time.  The Brondell Swash 250 bidet has the following features: Read more
Bidet Etiquette for the Uninitiated
If you've ever travelled overseas you've probably come across a bidet at least once.  You might've found yourself staring at the controls, wondering how in the world you're supposed to use such a device.  Fear not!  The bidet is an amazingly effective and easy to use device and these bidet etiquette tips will help you to avoid such mistakes as pooping in the bidet. Read more
The Bio Bidet BB-250 doesn't require any electricity or a battery, making it a very eco-friendly toilet seat bidet.  It has user-controls for temperature as well as water pressure.  Dual nozzles give you the hygienic qualities that you need with a separate nozzle for feminine cleansing. Read more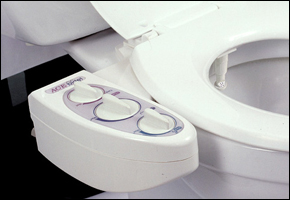 The Ace HS 3000 is a bidet that can be easily installed on any existing toilet.  It includes all of the tools that you'll need along with a detailed manual to ensure that anyone can easily install this toilet seat bidet.
If you're looking for all of the hygienic benefits of more expensive bidets without the cost, the Ace HS 3000 bidet might be the perfect solution. Read more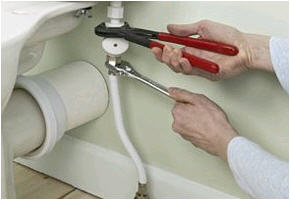 Just like most plumbing fixtures in your house, you can fix up majority of small problems on your own.  As such, you should keep a basic set of tools put away, in the event that you encounter a few problems like leaks and low water pressure.
What equipment should you keep on your bidet repair tool box?
Plumber's Wrench (for tightening and loosening joints, pipes and hoses)
Pliers
Screwdriver (in case you need to remove and return the toilet seat)
Plumber's tape (good for taping leaks in the hose too)
In case there's a problem that you can't figure out on first glance, try disassembling your bidet and putting it back again.  Since most toilet seat bidets are intended for DIY installation, they shouldn't be too difficult to put together.  As with all other plumbing work, of course, make sure to turn off your power supply before doing anything.  The last thing you want is to aggravate the problem with a flooded toilet.
Electronics
Most manuals that come with electronic bidets also include basic repair and upkeep instructions for non-plumbing components, so make sure to give it a read in case you encounter problems you're having a hard time troubleshooting.  For the most part, though, the electronic components of premium bidets are built to last and are covered by the warranty, so problems shouldn't occur all that often.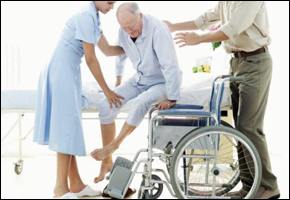 The elderly and the handicapped are two growing groups of bidet users.  Due to physical limitations, using a toilet can be difficult or impossible for some people, which makes the bidet an ideal candidate for them.
For people who have difficulty moving or pain while doing so, a bidet can provide much relief over a standard toilet.  By simply sitting down, doing their business, and then standing up, one can eliminate all of the extra exertion and pain of wiping.  This can be extremely difficult for those with arthritis, muscular dystrophy or multiple sclerosis. Read more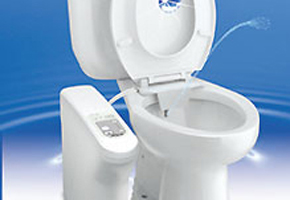 The Bio Bidet BB-300 Universal is unique in that it can be installed on either side of the toilet and fits any toilet, whether it's a one piece, a two piece, round or elongated. Read more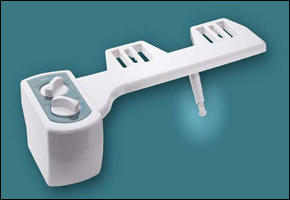 Similar to the Sanicare 900 bidet, the Sanicare 1000 adds extra controls for a more customized and comfortable bidet cleaning experience.  The Sanicare 1000 also allows you to use both cold and warm water hookups. Read more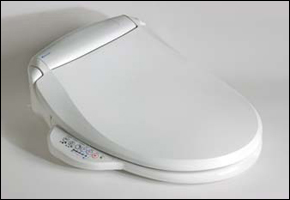 The Brondell Swash 550 has a wide variety of premium bidet features at a price that won't break the bank.  It has an instant heater which ensures you'll never run out of warm water when doing the deed.  The Swash 450 also has side-mounted bidet controls for easy access and features a large seat for maximum comfort. Read more