Brondell Swash 550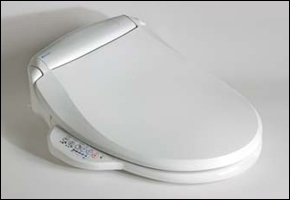 The Brondell Swash 550 has a wide variety of premium bidet features at a price that won't break the bank. It has an instant heater which ensures you'll never run out of warm water when doing the deed. The Swash 450 also has side-mounted bidet controls for easy access and features a large seat for maximum comfort.
Brondell Swash 550 Features:
Feminine and posterior nozzles for hygienic purposes
Space-saving design fits in any bathroom
Water temperature controls
Seat temperature is fully adjustable
Complete control over your bidet's water pressure
Countoured, comfortable seat with built-in heater
Easy bidet cleaning with the "quick release" seat removal
Bidet seat resists germs
1 year limited warranty
Seat and lid close gently to prevent loud banging
The Brondell Swash 550 comes in two different varieties; round or elongated. Make sure you measure your toilet before purchasing a bidet to ensure you buy the correct model. You can also choose between "white" and "biscuit (beige)" to find the perfect match for your bathroom.

Brondell Swash 550 MSRP: $925