Brondell Swash 250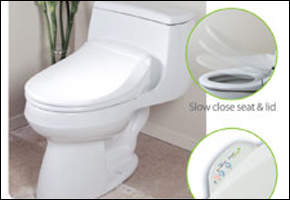 The Brondell Swash 250 is a great way to conserve on toilet paper. According to Brondell, using a Swash 250 bidet saves 75% on toilet paper and is a great way to cut costs and help save the planet at the same time. The Brondell Swash 250 bidet has the following features:
Eco-friendly Solutions
The Brondell 250 bidet saves up to 75% off your cost of toilet paper
Makes conservation easy
Uses hydro-powered bidet nozzles without any electricity
Ease of Installation and Use
The Swash 250 bidet fits over 98% of all toilets
Sports a comfortable seat and that close slowly to avoid banging
Easy and intuitive push-button controls
Bidet's water pressure is fully adjustable
Brondell Swash 250 Ecoseat Bidet Features
Dual nozzles for the ultimate in hygiene
Bidet nozzles retract automatically
Push-button bidet controls mounted on the side of the bidet
Seat and lid have an anti-microbial finish to resist germs
Attractive design and a comfy seat
Nozzles are self-cleaning
Quick-release seat makes cleaning a snap
One year limited warranty
Healthy and Hygienic Living
Bidet washing leaves you feeling fresh
Dual nozzles prevents cross-contamination
Anti-microbial finish resists germs
Bidets eliminate the need to wipe, avoiding harmful bacteria
The Brondell Swash Ecoseat 250 bidet is a great purchase for anyone who cares about the environment and would like to save a lot of money in the long run. It uses no electricity which makes it one of the most eco-friendly bidets on the market.

Brondell 250 Swash Ecoseat MSRP: $349