Sanicare 1000 Bidet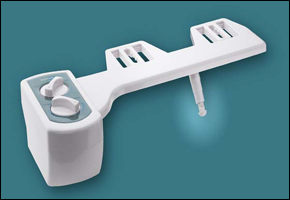 Similar to the Sanicare 900 bidet, the Sanicare 1000 adds extra controls for a more customized and comfortable bidet cleaning experience. The Sanicare 1000 also allows you to use both cold and warm water hookups.
The Sanicare 1000 bidet has the following features:
Strong yet soft bidet nozzle
Self-cleaning bidet nozzle
Brass fittings
Adjustable, sliding bidet nozzle
Powerful nozzle with enema effect
Everything is included for easy installation
Adjustable controls
The Sanicare 1000 remains a bargain and offers hot/cold bidet spray and adjustable controls at a price that's much lower than what the competition offers. The Sanicare 1000 bidet is a great way to enter the world of bidets without spending a fortune.