Ace HS 1000 Bidet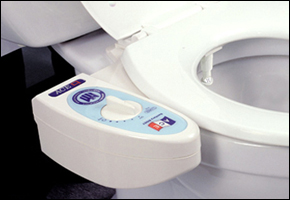 The Ace HS 1000 is a bidet that can be easily installed on any existing toilet. It includes all of the tools that you'll need along with a detailed manual to ensure that anyone can easily install this toilet seat bidet.
If you're looking for all of the hygienic benefits of more expensive bidets without the cost, the Ace HS 1000 bidet might be the perfect solution.
Functions:
Strong water spray that is both gentle and effective
Self-cleaning, sliding bidet nozzle
High quality brass fittings for extra reliability
Bidet nozzle is adjustable
Powerful bidet spray with enema effect
Easy cold water connection
Fits all 2-piece toilets

The ACE HS 1000 is a great bidet bargain at under $100 from some websites. While it lacks most of the perks of more expensive bidets, it's a high quality, no frills bidet.
Ace HS 1000 MSRP: $149.95