The Shower Toilet Bidet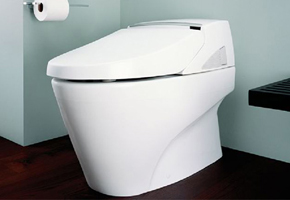 The shower toilet is a combination of a toilet and a toilet seat bidet, all in one unit.  It was invented in 1957 by Hans Maurer of Switzerland.  He came up with the idea to combine the functionality of a bidet with a toilet, saving money and space as a result.  He called his invention the "Clos-o-Mat" which created an entirely new type of bidet, the shower toilet.
Hans Maurer felt that the logical progression for the bidet was to be able to wash oneself without having to use toilet paper or get up off of the toilet.  This created an entirely new shift in bidet thinking, allowing people to save a great deal of money on toilet paper while maintaining the same level of cleanliness as a standalone bidet.
While the Clos-o-Mat bidet experienced limited success (mostly popular among the disabled and elderly), it was soon adopted by the Japanese and other Asian countries as the wave of the future.  Now you can buy relatively inexpensive models as well as luxurious shower toilets such as the Toto Neorest 600.  Costing upwards of $5,000, today's shower toilet bidets are amazingly advanced and far past the vision that even Hans Maurer had for his device.