Add-on Bidets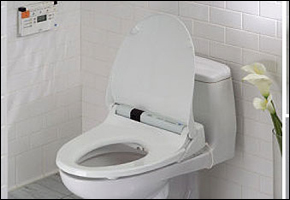 In this category of bidet, toilet seat bidets can convert any normal toilet into a shower toilet with a minimum investment and a small amount of plumbing and electrical work.  For most higher end toilet seat bidets to work, it's necessary to hook it up to the cold water line that runs into your toilet and also to have an electrical outlet located near your toilet.  This category also includes handheld and portable bidets.
Toilet Seat Bidet – A toilet seat bidet is a device which replaces your toilet's eat with a bidet.  It requires a small amount of plumbing and an electrical outlet located near the toilet.  These types of bidets often have as many features as a combo bidet toilet at a price that is much more affordable.
Hand-held Bidets – Hand-held bidets use flexible hosing and a spray attachment to manually wash yourself.  They are similar to the vegetable washing hoses in some sinks, and are attached to the water line running to your toilet.
Travel Bidets – These bidets are handy for the person on the go.  They're battery-operated, hand-held and can be taken with you anywhere that you go.
As you can see, there's an amazing variety of bidets to suit anyone's budget or decorating needs.  Whether you're looking for a complete bidet toilet or a handheld travel bidet for your journeys, you're sure to find the right bidet.  Check out our Bidet Reviews and Bidet/Toilet Combo reviews to find the perfect setup for your home.