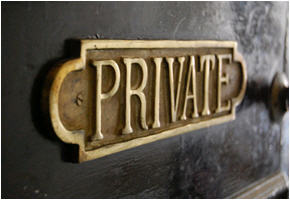 For the men who appreciate the comforts of a quiet bathroom, there's few things better than a private one.  Sitting in your comfy toilet seat, you can pull out your latest issue of Car and Driver and spend as much time perusing its pages, with no one knocking at the door rushing to get you out.
Of course, if you're really bent on enjoying your private escape, how about installing a premium bidet to really amp up the luxury?  Imagine the experience: heated seats, warm water, remote-controlled seat covers, warm air and all sorts of amenities that you can choose from the higher you go up the price range.
My personal bathroom getaway consists of 45 minutes every morning in the seat of our private toilet, with its own lock and key.   Our Japanese bidet packs adjustable seat temperatures, so I crank it up high and turn on the massaging feature (yes, our bidet seat vibrates) before plopping my ass down.  I pull out a copy of either a sailing or an outdoor magazine, fire up a cigar and consume them till I'm primed and ready for another busy day ahead.
The wife thinks I'm insane.  I argue that insanity is having to live in your own home without a luxurious retreat.  I have mine.  Do you have yours?