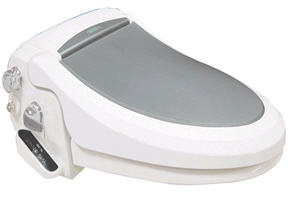 Premium electronic bidets offer the kind of creature comforts that make it feel like an amenity in some science-fiction movie.  With heated seats, a never-ending supply of warm water and massaging features, an electronic bidet fosters the kind of convenience we've always imagined technology can get us.
Still, there are good reasons for ditching the high-tech in favor of bidets that don't require an electric plug.
1. It's cheaper. Electronic bidets can easily run you up to $500 or more.  Regular bidets, on the other hand, can cost as low as $50.  The price gap is huge and, if you don't want to make that kind of investment for a simple bathroom amenity, a vanilla version should make a decent choice.
2. It's more green. Since you're not using electricity, your home's overall resource usage is much lower. As such, your carbon footprint is similarly less pronounced.
3. It reduces toilet paper use. Since you no longer need toilet paper for wiping dirt and stains off, you'll only need toilet paper to pat yourself dry.  If you want to further eliminate toilet paper use, you can also opt to just dry yourself with a small towel.
4. You can get hot water with a regular bidet too. While a water heating technology doesn't come with non-electric bidets, some units allow you to switch between two water sources, allowing you to connect one hose to your water heater (the same one that heats your shower, for instance).
5. Less maintenance required. As with any electronic gadget, the less parts it has, the less problems you're likely to get.  A regular bidet is simpler, allowing for fewer things to possibly go wrong.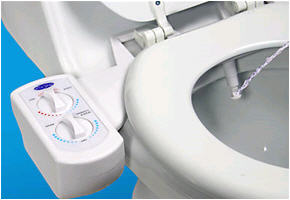 Most of us probably started our bidet experiences with a non-electronic regular unit that sprays water directly from the pipes.  It works just as ably when cleaning your posterior, although the sensation can be quite a shock when it first hits you during cold weather.
Spraying Dirt Out
Some people shun cold water bidets because it may not clean as well as warm water.  That couldn't be farther from the truth.  Bidets facilitate their washing by spraying the soil out of your skin, not because of the temperature.  Warm water does feel cleaner, although, there's really little difference in their actual results.
Water pressure is actually a more important factor when it comes to cleansing effectiveness.  As long as your bidet offers varying strengths of spraying, it should prove to clean your bum just as competently as more expensive counterparts.
Electronic Comforts
Electronic bidets can do more than spray hot aerated water, though, and that's where they take a huge leap over regular bidets when it comes to overall usefulness.  Using the toilet just becomes leagues more pleasant with heated seats, warm dryers and other amenities in tow.
Drying Issues
Many cold water bidet users have to pat down their posteriors after washing, which most folks often perform with toilet papers.  Those who wish to completely make do without the wasteful pulp product make use of a small cloth like a hand towel in its place.  A few have claimed not bothering to pat down but I think that would be a bit too cold for comfort.
Electronic bidet users are usually covered on that end with most units coming with a  dryer in tow.  One flick of a button and a steady stream of warm air starts blowing on your wet bottom to round out your cleaning.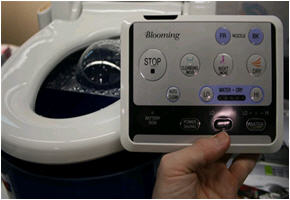 Bidets, much like most things in life, come in different varieties.  Some, like hand-held bidets, are fairly utilitarian, facilitating cleansing without much frills.  Others, however, can bring creature comforts right to your toilet seat in more ways than you can imagine.
Top-of-the-line bidets offer much more than hygiene and a thorough cleansing, incorporating numerous functions that make those trips to the toilet a truly pleasant experience.  While enhanced operation doesn't come cheap, neither does the well-being a full-featured electronic bidet can bring.
The moment you sit down, you can relax in a heated seat that keep your bare legs warm, taking as much time as you need without the need to hurry.  Pick up the wireless remote control to perform any action with the single press of a button, whether it's adjusting your seat's temperature for a more restful feel or activating the powerful deodorizer to get rid of unwanted smells.
High-end bidets offer a complete set of self-adjusting sensors that can deliver the necessary cleansing – from the heat of the water to the pressure with which it's delivered – depending on numerous factors.  You can also choose to override any predetermined setting and program it according to what works best for you.  Pampered is pretty much the operative word, with the warm aerated stream of water during cleansing and the soft gush of warm dry air while drying.  Many even offer cyclic massaging during cleaning to facilitate a more thorough and relaxing rinse.
Costing in the vicinity of $500 and up, high-end toilet seat bidets may prove a considerable investment. However, that easily pays for itself in the improved quality of both your family's hygiene and cosiness during what's usually  uncomfortable moments.