Toto C100 Washlet Bidet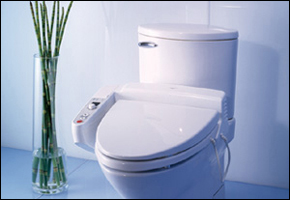 The Toto C100 Washlet Bidet is the most affordable toilet seat bidet offered by Toto. Founded in 1917, Toto is the world's leading plumbing manufacturer and is the number one brand of bidets in Japan.
While the Toto C100 is the cheapest toilet seat bidet offered by Toto, it has a range of features that put it in line with many of the top-of-the-line offerings by other bidet companies. These include:
Gentle, aerated warm water spray
Dual action bidet spray
Self cleaning bidet nozzles
SoftClose seat which eliminates loud toilet seat slamming
Heated seat with variable temperature control
Easy to install and to keep clean
Antibacterial plastics
The Toto C100 is great for an entry-level toilet seat bidet from the most respected name in bidets; Toto.

Toto S400 MSRP: $727.00