Brondell Swash 700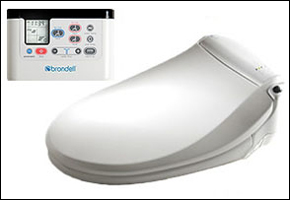 The Brondell Swash 700 is the top of the line toilet seat bidet from Brondell. It features a heated seat and programmable power-saving features to ensure your comfort and save you money at the same time.
The following are just some of the Brondell 700's features:
Posterior and feminine wash for maximum cleanliness and sanitation
Attractive and space-saving design that is as attractive as it is comfortable
Separate temperature controls for both water and seat
Water pressure controls, ensuring that you receive the perfect level of comfort
Heated seat
A sturdy, strong seat
Wireless remote control allows you to mount the controls on a nearby wall
Quick release seat for quick and easy removal and cleaning
A bacteria resistant seat
Hydraulic seat guarantees that slammed toilet seats are a thing of the past
Programmable energy saving mode to save on your electricity bill
A 2 year limited warranty
The Brondell Swash 700 bidet is available in either white or biscuit (beige) and elongated and round sizes that will fit 98% of all residential toilets.
Swash 700 Bidet MSRP: $1025