The Classic Bidet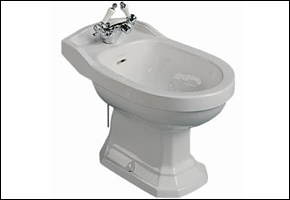 The traditional bidet was created sometime in the 18th century and was basically a small version of a bathtub.  Instead of immersing your entire body into it, however, you were supposed to fill it up with water and splash your genitals and anus with it to get yourself clean.  It operates similar to a Sitz bath, which only requires the person's hips and buttocks to be submerged in water or a saline solution.
Classic bidets have a stopper which allows you to fill up the basin while retaining the water.  They are meant to be straddled with your face pointed towards the wall and the faucets, allowing you to easily manipulate the controls to reach the perfect water temperature.  This traditional style of bidet is becoming increasingly rare, being replaced by models that have a comfortable seat to sit on as well as controls on the opposite side, allowing you to sit on it more naturally, like a toilet.  Other than those two simple improvements, the classic bidet is relatively the same as it was when it was first invented.
Typically a classic bidet is located directly next to a toilet, allowing you to easily move from one to the other.  These classic bidets are typically expensive and can require costly plumbing work to install.  They also take up a large amount of space in your bathroom, making them difficult to retrofit into today's modern homes.  Classic bidets are popular because of their durability and how simple they are to use.