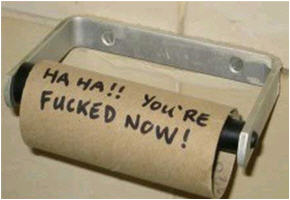 Ever ran out of toilet paper in the middle of the night right after you performed the deed on your toilet?  That must have given you quite the fits.  How are you going to clean your bum?  Will you be willing to go commando and drive down to the convenience store with soil on your  ass?
As a bidet user, knowing full well that the experience won't ever happen to me is actually very comforting.
With a bidet in tow, cleaning up after dumping your excrement is as simple as pushing a single button.   It's there ready to clean you off at all times of the day, from the first crack of morning to the quiet of the night.   There's no running out of toilet paper and no driving down the 7-11 with a dirty posterior – just pure bathroom convenience whenever you need it.
That usefulness alone should encourage everyone to get a bidet.  Forget the fact that it's one of the most useful bathroom amenities ever created, installing a bidet will help you break your dependence on that old-fashioned wiping implement.  Even if you feel unprepared to give up the toilet paper now, a bidet  should give your bathroom more options.
Can you imagine having guests spending the night when the toilet paper runs out?  Just think about how humiliating the event will be for them.  Would you really want to put your visitors through that kind of turmoil?
Get a bidet now – it will help you in more ways than you could have dreamed possible.